2021 Philanthropic Star Award Finalist
This Forbes Travel Guide's award salutes a property that helped others who faced adversity in 2020, whether through an international campaign or a community-based effort. As part of the 2021 Star Awards, Forbes Travel Guide wanted to recognize the hardworking, passionate people behind the best properties by presenting some special accolades. The second annual Employee of the Year prizes celebrate the exemplary staff members who stood out in their service to guests and co-workers. To honor those who shined all the more during the pandemic, Forbes Travel Guide introduced the new Hospitality Stars of the Year awards.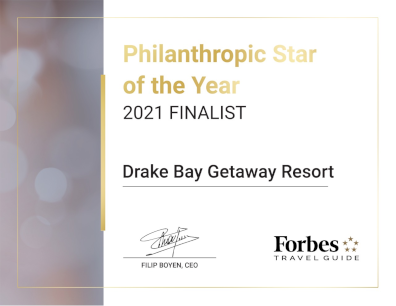 Top Hotel for Romance in Costa Rica
We received prestigious award from TripAdvisor as one of the Top Hotels for Romance in Costa Rica based on millions of valuable reviews and opinions from travelers around the world.
Award winners were determined using an algorithm that took into account the quantity and quality of reviews from travelers on TripAdvisor gathered over a 12-month period with emphasis placed on reviews marked as a couples stay.
"Travelers looking to enjoy a relaxing getaway with their special someone can confidently book these award-winning properties that consistently win over the hearts of their guests," said Barbara Messing, chief marketing officer for TripAdvisor. "From outstanding service, to lavish amenities and stunning surroundings, it's easy to see why these hotels are beloved by travelers around the world. See our hotel's TripAdvisor reviews."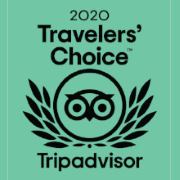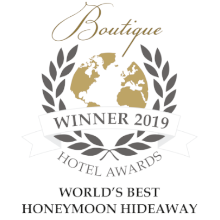 World's Best Beach Boutique Hotel
In 2019, our resort received an award for the Americas most Romantic Boutique Hotel. According to the World Boutique Hotel Awards' judges, "Drake Bay Getaway is truly a unique luxury resort nestled between the coast and the rain forest of Costa Rica's Osa Peninsula. The resort's innovative and environmentally-friendly design set amidst the natural beauty of the land combined with the exquisite, thoughtful customer service made this hotel stand out as a World Boutique winner."
Platinum level GreenLeader
Our boutique resort received the Platinum level GreenLeader award from TripAdvisor, the highest environmental standards in TripAdvisor.
The TripAdvisor GreenLeaders program recognizes the properties around the world that are committed to environmental sustainability. TripAdvisor recognizes these businesses, from the smallest B&B to the largest hotel chain, for helping to make eco-friendly trips possible for our community of millions of travelers.
Drake Bay Getaway Resort is fully committed to green practices and sustainable development. Our resort was build using 80% recyclable materials including some of the finest sustainably harvested teak wood in Costa Rica. We use Passive Cooling to keep our cabins cool without air conditioning, biodegradable water bottles, solar water heating, biodigester sewage treatment, food compost, greywater reuse, just to name a few.
For us, this is just the beginning. We plan to continue to innovate our green practices as we become a top destination for eco-tourism. As shown on our hotel's TripAdvisor listing, our boutique resort focuses on providing the best personalized services with the least impact to our environment. See our hotel's TripAdvisor reviews.

Luxury Eco Lodge of the Year
It isn't easy being green! It means taking an ethical approach to conserving, protecting, and enjoying the environment to the fullest extent, while striving to minimize your environmental footprint. In this sense, hotels have to do a lot more than recycle paper and make sure guests reuse their towels to be "green." Drake Bay Getaway Resort, an eco-lodge located on the Pacific Coast of Costa Rica's Osa Peninsula, has gone above and beyond the requirements. Our hotel Drake Bay Getaway Resort just received the Luxury Eco Lodge of the Year award from The Luxury Travel Guide Awards organization. This is a prestigious award that the we are very proud of. Read full story here: Award Winning - Pura Vida Eco Lodge - Drake Bay Getaway Resort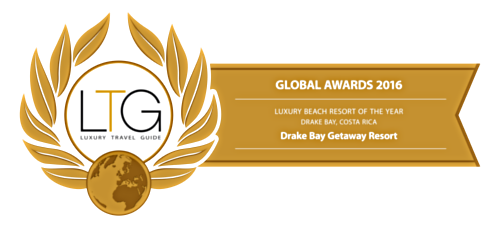 Luxury Beach Resort of the Year
In 2016, our boutique resort received the Luxury Beach Resort of the Year award from the Luxury Travel Guide in London, UK.
Every cabin features a wall of sliding glass doors which open on to a large deck overlooking the Pacific Ocean, the Corcovado National Park and the Drake Bay Jungle. These views continue into the bathroom, where guests can look out over the impressive landscapes as they wash beneath the twin rain shower heads. Guests can expect to eat three decadent, personally tailored meals a day and enjoy unlimited specialty coffee and delicious fruit drinks.